We are an Amazon Affiliate
Our site is supported by you, our readers! This page contains affiliate links, which means we may earn a small commission if you click through and make a purchase - you will not pay any extra. More details
here
.
If you're a wine lover who loves, lives, and breathes wine, then you definitely need a wine cooler. Even if you don't consume wine and simply have a hobby of collecting exotic or rare vintages, you need proper wine storage. This guide highlights some important wine cooler buying tips that can help you make an informed purchase decision. Read on to know everything about wine coolers.
What is a wine cooler?
A wine cooler is a refrigerator like appliance specifically designed to store wine at an ideal temperature and environment. So, what's the difference between a wine cooler and a wine fridge, a wine cellar, wine cabinet, wine refrigerator, bar fridge, wine chiller, drinks fridge? While there may be technical differences between the terms, all can be used to describe a wine cooler, it probably depends on which part of the world you are from!
Coming back to storage, do you always find your fridge overcrowded or the wine rack in the pantry too small? Don't have the space for an underground wine cellar in your homes? You want to store the wine efficiently, serve it at the right temperature and enjoy a glass when the urge strikes.
Shopping for the right appliance to store your beloved wine collection can be overwhelming and confusing. We've taken the pain out of the search for you and compiled this list of the important things to consider when selecting a wine cooler.
How To Pick The Best Wine Cooler For You
It seems every other day there's a launch of a new wine cooler laden with extraordinary features. Exciting as this may be, it can make choosing the right wine refrigerator for your needs a confusing and overwhelming experience.
If you're on the hunt for the best wine cooler in town, don't worry, there are plenty of options out there for you and we're here to help!
Let us guide you in picking the best wine cooler for your needs.  Here are some factors to consider when choosing your wine fridge:
Single or Dual Zone Cooling
This decision probably hinges on the types of wine you like to drink.  If you're a never wavering white wine drinker who would never contemplate needing to chill a bottle of red, then you could probably save yourself some money by buying a Single Cooling Zone wine fridge. Wine coolers that offer single zone cooling come with a single cooling area, as well as one temperature control.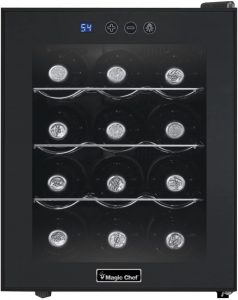 If this is your first wine cooler, you might consider buying this kind of cooler as a way of dipping your toe into the market. It is also a good choice if you're a one wine only type of person (only white or only red). It is a less expensive, cost effective way to enter the wine cooler market.
Our pick for the best Single Cooling Zone Wine Cooler: Magic Chef 14.2″ 12-Bottle Wine Cooler.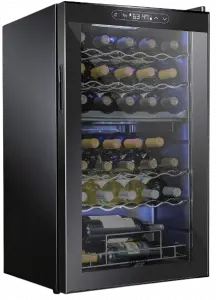 So what's the deal with Dual Cooling Zone wine fridges? The name says it all. These wine coolers feature two cooling zones. If you're an ardent wine lover and collector this is probably the best type of wine fridge for you, especially if you have an extensive collection of both red and white wines.
Separate temperature zones can be adjusted to suit a combination of wine varieties which is super convenient for storing red and white wine at separate temperatures or even separating drinking wine from the wine you want to age.
Dual Zone Cooling wine coolers are a little more expensive, but, for a  true wine lover, they are well worth the investment.
Our pick for the best Dual Cooling Zone wine cooler: It would be hard to beat the mid-priced Schmecke Dual Zone or the higher priced Aobosi Wine Cooler.
Freestanding or Built-in or Countertop Coolers
The next important decision depends on where in your house you plan to keep your wine.  Whether in the cellar, the dining room or the kitchen, you'll need to decide whether you're looking for a freestanding unit, a countertop cooler or plan on having the wine fridge built in.
Freestanding wine coolers are fuss-free and require no special skills or tedious installation. The simple standalone design of these units means you can keep them in any room, plug them in, and you are good to go. These coolers have a vent on the back so, you do need to place them two to four inches away from the wall to allow proper ventilation. Also, do not place them inside a cabinet or cupboard as it may block the ventilation.
Our pick for the best Freestanding Wine Cooler: Schmecke Dual Zone
The Built in (or Under Counter) Wine Fridge is a thing of beauty and can take your kitchen design to the next level.  These sleek units can be fitted inside your cabinetry in your kitchen or bar (or anywhere you choose I suppose – a wine fridge in the bedroom or bathroom? Why not, don't mind if I do – easy access to wine wherever I happen to be!).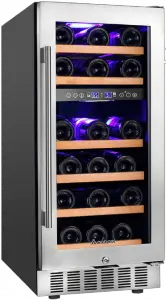 These wine coolers feature air vents in the front. The only downfall with these kinds of coolers is that they do need to be installed by a professional or at least someone who knows what they're doing, and you may need to renovate your space to accommodate your new wine cooler.
Our pick for the best Built In Wine Cooler: Aobosi 15" Wine Cooler
If space is an issue a good alternative is the Countertop Wine Cooler. The compact size of these small wine fridges make them perfect to keep them on the counter or a table so there's always wine handy within reach! The drawback is that a compact wine fridge equals fewer bottles of wine!
Our pick for the best Countertop Wine Cooler: Magic Chef 14.2″ Wine Cooler
The Refrigeration System – Thermoelectric Or Compressor Based Wine Coolers
Another very important factor to consider when determining the best wine fridge for your needs is whether you should go for a thermoelectric model or a compressor based wine refrigerator.
Many wine lovers consider thermoelectric wine coolers to be a superior option to the compressor based wine coolers.
Thermoelectric wine coolers are very energy efficient as they have very few moving parts and operate easily with low power. This lower energy consumption makes them a very environmentally friendly option and no doubt is better for your power bill too.
Also, don't ask me how they do it, but these amazing wine coolers do not produce annoying noise and do not vibrate at all! Impressive stuff! Apparently wine likes to be in a stable environment and this absence of vibration or movement of any kind keeps the wine in its happy place, and, happy wine is good tasting wine!
There are a few drawbacks associated with thermoelectric wine coolers. First and foremost, they usually come with a very small capacity which is going to mean more trips to the shops to buy wine as you won't be able to store much at home.
Another major drawback is that these wine coolers struggle to do their thing properly in warm environments. So, unfortunately, if you live in a lovely warm climate, you may need to look at other options – but, hey, you live in a lovely warm climate so I don't think life is so bad for you!
Our pick for the best Thermoelectric Wine Cooler: Magic Chef 14.2″ Thermoelectric
Just like thermoelectric wine coolers, compressor wine coolers also come with a set of advantages and drawbacks. Let's look at the good stuff first. These wine coolers are powerful with a robust cooling capacity. They can easily chill large wine bottles and are great for large or extensive wine collections.
Furthermore, this type of wine cooler does not have a problem with temperature variations. If you live in a warm climate these wine fridges are for you. They easily cope with temperature variations and added heat load without altering the internal temperature so your wine stays nice and chilled!
Compressor Wine Coolers operate like traditional refrigerators with a compressor system that produces and circulates cool air and are designed to create colder temperatures that can be maintained for long periods of time. This makes them a great option for white and sparkling wine drinkers. They are very consistent in providing reliable and stable temperatures making them a favored option for long-term cellaring.
The drawback of this kind of wine cooler is that, like all refrigerators, they make noise and may vibrate slightly. Clever manufacturers have overcome this issue by using rubber bushing to help minimize the vibrations and the noise.
Our pick for the best Compressor Based Wine Fridge: Aobosi 15" Wine Cooler
Bottle Capacity
Considering bottle capacity is also important while buying a wine cooler. Even if you are a beginner, we would recommend you buy a bigger size wine cooler to accommodate your growing collection. But, of course, it all depends on your needs – how much wine are you likely to need to store, how much space do you have for your new wine fridge?
Also, keep in mind the shelving. Standard size bottles are never an issue but if you are fond of champagne or you have bottles with longer necks, you will need to buy a wine cooler that has a large top shelf, removable shelves or comes with a basket.
Construction
Most wine coolers are standalone or freestanding units that can be built-in later on. Larger wine fridges have front-exhaust capabilities, but those that do not have a compressor need to have airflow around the unit so as to operate efficiently and not overheat.
i. Exterior Construction
The exterior look of wine cooler can enhance the overall look of your kitchen. Products designed in stainless steel complement most kitchen appliances while other black models can look sleek in a modern environment. Most wine cooler doors are comprised of UV-filtered double-paned glass. This UV filter prevents sunlight from directly entering the wine cooler and interfering with the biology of the wine.
Also, the double-pane glass helps to keep the internal temperature at a desired level. Keep in mind that wine coolers should not be stored in direct sunlight or in temperatures exceeding 75 degrees Fahrenheit (24℃).
ii. Interior Construction
The interior construction of the wine coolers differ widely between models. Some have metal racks while others use wooden racks or wood-framed wire grids. Some models include shelves that roll in and out making it easy to place and remove bottles as well as read the labels.
Most feature soft LED lighting for the interior light which also makes it easy to read wine labels. Some wine coolers allow the light to be in use even when the door is closed, allowing your collection to be displayed attractively.
Humidity controls
Let's face it, your wine can be fussy! Not only does it want to be chilled to the perfect temperature, it also wants just the right amount of humidity in its environment. If your wine is exposed to low levels of humidity, the cork can be dried out. A dried cork will let air enter the wine bottle and ruin your wine (gasp!). Wine coolers with a humidity control feature will help with the management of moisture in the air so this is definitely a feature to look out for.
Anti-vibration system
Wine coolers that operate with a refrigerator compressor system can have issues with both noise and vibration. An anti-vibration system is installed in the compressor or in the structure of the cooler to help minimize micro-vibrations and noise. For a dedicated wine enthusiast, this feature is reassuring as micro-vibrations can have a negative effect on the wine's color, flavor and body.
Charcoal air filter
Look out for the charcoal air filter in your cooler. It will filter the air entering the cooler and prevents odours from changing the taste of the wine. Air filters can also help reduce the build up of dust inside the wine cooler.  These filters should be replaced every 6-12 months.
Smart functions
Smart functions like touch controls and digital displays make the cooler super-easy to use. There are even some smartphone-compatible wine coolers in the market now. Sit from afar and control the temperature of the cooler. Amazing, isn't?!
Security lock
Private collections, reserves and rare vintages are best kept locked in the wine cooler. Keep it all safe from inquisitive children, experimental teens and jealous neighbors by looking for a wine cooler with a locking function.
Alarms and memory function
Temperature alarms will let you know if the door has been left open or if the temperature inside the cooler has dropped below the set temperature. The memory function will also reverse the temperature back to the one you had set in and restore the coolness. Pretty clever!
Reversible doors
Just like our conventional refrigerator, some wine coolers have a reversible door – important if you want to put your cooler in a spot where it will only be practical to open the door in a certain direction. This feature gives you more freedom to choose where to place your wine cooler.
Height and width-adjustable shelves
The usual shelves in most wine coolers are designed in a way, such that it will fit in a standard 750ml Bordeaux shape bottle. If you've wines such as Pinot Noir or your collection has champagne, magnums or even bigger bottles, then adjustable shelves are great for you. You can adjust the shelves according to the size of the bottle.
Wooden and sliding shelves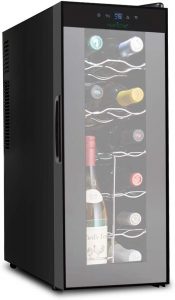 This is an important feature if you're likely to be storing expensive wines. You don't want your rare and vintage collection to have scratches and torn labels. Metal racking can do that so soft wooden shelving is a good option if you've got expensive wines to store. Adjustable and sliding shelves make it easier to see and remove bottles from the collection.
Upright storage space
This is an uncommon feature and not likely to be present in most of the coolers. Such type of storage allows you to place opened, but unfinished bottles back in the wine cooler. A great, but uncommon feature if you're worried about leaking bottles. The NutriChef 10″ Wine Cooler is a good example of a model that has this feature.
Difference between a wine cooler and wine cabinet
Wine coolers – the primary purpose of a wine cooler is temporary wine storage before serving. It's your everyday place to keep and chill your wine before enjoying. If you like to enjoy a glass of wine often then this is the product for you.
Wine cabinets – wine cabinets are used mainly for long-term storage. They're mostly designed in furniture-style or refrigerator-style pieces, which means they are often larger in size than the most wine coolers. They're also more expensive than wine coolers and usually have just one temperature zone.
A wine cabinet is perfect for collectors of wines, especially wines that you plan to store or cellar for a long period of time before consuming.
While the names are sometimes used interchangeably, they do have slightly different functions as noted above and you'll need to decide if it is a wine cooler or a wine cabinet that would best suit your needs. A true wine connoisseur would likely have both.
Importance of serving wine at the right temperature
Serving temperature has a big effect on how a wine smells, tastes and feels in your mouth, even a very good wine can be awful at the wrong temperature, likewise improper temperature can also shorten the wine's life or ruin the wine completely! When served at the right temperature, the flavor is enhanced, this is true for both red and white wines.
So what is the best temperature to serve wine? I'm glad you asked!
Generally speaking, unless the bottle or your wine merchant tells you otherwise:
The best temperature for red wine is 62-68 degrees (16 – 20℃).
The best temperature for white wine is 49-55 degrees (9 – 12℃).
A wine cooler is a very convenient way to ensure that your drinks are served at just the right temperature for maximum enjoyment because, after all, a chilled wine is a happy wine!
So, we've concluded that buying a wine cooler is a great investment.