We are an Amazon Affiliate
Our site is supported by you, our readers! This page contains affiliate links, which means we may earn a small commission if you click through and make a purchase - you will not pay any extra. More details
here
.
Best Wine Coolers 2022
Where would we be without the wine refrigerator? Still, storing our wine in the fridge amongst the milk and butter? Don't worry, plenty of us still do that! But, with the growing fondness for wines and greater accessibility to different types of wine on the market, wine fridges, wine coolers, wine chillers (select your preferred name) are certainly growing in popularity. And why wouldn't they be when they can keep your beloved wine chilled to perfection and offer the perfect environment and cooling temperatures to store your favorite wines?
A serious wine enthusiast knows that using the best wine cooler can be the difference between a good wine and a perfect wine. Serving temperature has a big effect on how a wine smells, tastes and feels in your mouth, even a very good wine can be awful at the wrong temperature, likewise, the improper temperature can also shorten the wine's life or ruin the wine completely! 
Regular refrigerators are not the best option, as they are too cold for most wines, and "room temperature" is too warm. Lucky for us wine buffs, the humble wine cooler is here to save the day!  Apart from offering optimum temperature conditions for a broad range of wines, the best wine coolers offer many benefits over cellars and refrigerators. They are not only relatively inexpensive but also, eco-friendly, portable, and low-maintenance.
Here we've put together detailed, unbiased reviews of the top-rated wine coolers on the market. 
The reviews are based on the first-hand experience of our team members and existing customer reviews. These wine fridge reviews are intended to help you to choose the best wine cooler for you, it all depends on what you are looking for. If price is your major factor and you're looking for the best inexpensive wine cooler, you'll probably want to check out the Magic Chef 14.2″, a great, economical option.
If it's capacity you're after, clearly the Aobosi 15" would be a good choice for you. With 28 bottle capacity you'll have space for plenty of wine, but, if that's not enough, the same manufacturer also offers larger capacity coolers.
If you are truly after the best of the best wine coolers, you can't go past the Schmecke 17″ 33 Bottle Dual Zone wine cooler, which happens to be our top pick. It provides an ideal environment and consistent temperature to help the wine age at a consistent level. The two temperature zones make sure that your wine retains its true flavor and characteristics. The sleek design, touch control, soft lights, UV control feature, and many other compelling features make it our choice for the best wine fridge for 2022.
Best Wine Coolers for 2022
Our top 3 picks for the award of best wine cooler for 2022. A brief overview of their traits and features are outlined in the table below, or scroll down further for a full review of each model.
| | | | | | |
| --- | --- | --- | --- | --- | --- |
| | | | | | |
| Schmecke 17″  Wine Cooler | | | | | |
| Magic Chef 14.2″ Wine Cooler | | | | | |
| | Built-in or Freestanding (28) | | | | |
Before we delve further into our reviews of the best wine coolers, it's important to determine what features you are looking for in a wine cooler to suit your needs. Click here to find out how to pick the best wine cooler for you.
Best Wine Coolers Reviews
So, here they are, our top picks for the best rated wine coolers. These wine coolers are leading the pack in terms of looks, features, and functioning. Sleek designs and perfectly chilled wines – what more could we ask for?
Let's take a look at the detailed features of the top-rated wine coolers one by one.
Schmecke 18 Bottle Dual Zone Compressor Red & White Wine Cooler/Chiller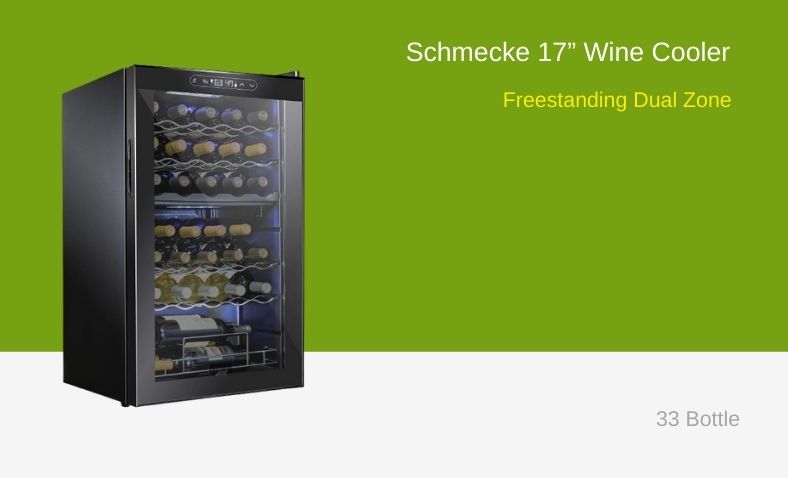 The perfect amalgamation of style and functionality, the Schmecke 17" 33 bottle dual zone compressor wine cooler tops our list of the best wine coolers. With a middle of the road price point, not so cheap you'll worry about the quality, but affordable enough to not blow the budget, this is a great model that is definitely worth consideration.
Unique Features
UV-Resistant Thermopane Glass
Easy to read digital LCD display
Super quiet, no vibration
Soft interior lighting
Built-in lock
Functional Features
The wine cooler offers the best environment and consistent temperature to the wines and this preserves the true quality and rich flavor of the wine for a long period of time. It offers the ideal environment for wine to age at a consistent level.
In this wine cooler, you can store white and red wine for short or long term in a stable temperature environment. Schmecke wine coolers' compressor technology ensures temperature is not affected by outside heat sources, and reaches temperatures low enough to store sparkling white wines! You can alter the temperature according to the aging process of your wine to create a suitable climate for it to mature. Both the zones allow you to change the temperature using easy touch controls. The temperature range of the upper zone is 54º – 64ºF (12º – 18ºC), whereas that of the lower zone is 41º – 57ºF (5º – 14ºC). Setting the temperature according to the wine keeps the wine flavorful for a longer period of time.
The reinforced airtight seal and double-paned thermopane glass door protects your wine collection from harmful sunlight or UV radiation that can upset your precious wine damaging the tannins and overall flavor of your wine.
The efficient compressor cooling system and superior insulation maintain the stable environment needed to protect the most delicate wines.
Aesthetic Features
Whisper quiet! One of the best features of this wine cooler is that it does not create vibrations and loud noises, a major plus if you are sensitive to the sounds of ongoing drone from some refrigerators. You can keep this great cooler anywhere, from the office to the bedroom without fear of being disturbed by noise – and who doesn't want easy access to their wine in the bedroom or the office?!
The exterior of the wine cooler is very chic and classy. The easy-to-use touch controls allow you to adjust the temperature and turn on the light by tapping the digital display. The bright LCD display lets you view the temperature, even in the dark. The interior lighting is very soft with an energy-efficient LED light to gently illuminate your collection. Say goodbye to harsh fluorescent bulbs that fade labels and affect flavor.
Being a freestanding wine cooler, you can keep it anywhere in your house, kitchen, cellar, bar, bedroom, office – wherever it's required and/or you have the space – its sleek design will complement any decor.
With all these excellent features, the Schmecke 17" 33 Bottle Dual Zone Red & White Wine Cooler qualifies as our top pick for the best wine cooler.
This product is the next best thing to having a real wine cellar in your own home.
Want to buy the Schmecke 17″ Wine Cooler?
Magic Chef 14.2″ 12-Bottle Wine Cooler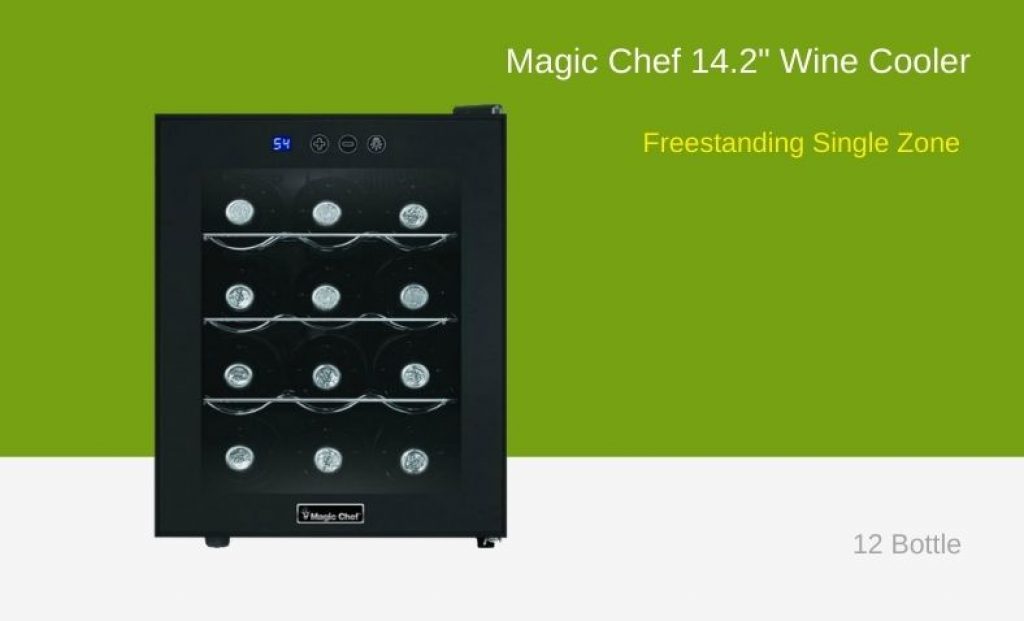 If budget is a barrier that is stopping you from buying the best wine fridge, then let me introduce you to the Magic Chef 12-bottle wine cooler. This wine cooler is a perfect option for those just starting out in wine collecting/drinking and those on a tight budget.
Magic Chef is one of the most trusted brands when it comes to home appliances. A part of MCA Corporation, this brand has always given the most advanced and reliable home appliances.
Unique Features
Stylish black exterior

Sculpted chrome shelves

Electronic control panel with LED display

Budget-friendly
Functional Features
Magic Chef 14.2″ is loaded with many excellent features.
It has a 12-bottle capacity perfect for people just starting their wine collections.
The sculpted chrome shelves are not just elegant but also hold standard size bottles well. You can remove three shelves to change the internal configuration and adjust for larger bottles when needed.
The soft LED light makes it very easy to admire the bottles within closed doors (so you can assess whether you need to buy more soon!).
The wine cooler offers you a wide temperature range and hence, you can store many wines without any worries associated with the change in the nature of the wine. The temperature range offered by this wine cooler is between 54 and 66°F (12 – 18℃).
A bonus feature of this wine cooler is its leveling legs. The adjustable leveling legs make it easy for you to position the cooler even on uneven surfaces, meaning you could use it in the garden for a BBQ even if you haven't got a flat surface to put it on – pretty cool!
Aesthetic Features
Despite its budget price tag, this is a very attractive wine cooler! Black door, black cabinet with sculpted chrome shelves, you won't have problems with it fitting into your decor. It is nice and compact in size and can even be used on your countertop. The outside of the front glass door has an appealing mirror like finish, you can see through it clearly when the internal light is switched on.
The digital control on the exterior makes it easy to change the temperature whenever you want without even opening the door. The built-in thermostat displays the internal temperature.
You can keep this wine cooler anywhere as it seamlessly blends with the surrounding decor.
Want to Buy The Magic Chef 14.2″ Wine Cooler?
Aobosi 15" Wine Cooler Dual Zone 28 Bottle Freestanding and Built-in Wine Refrigerator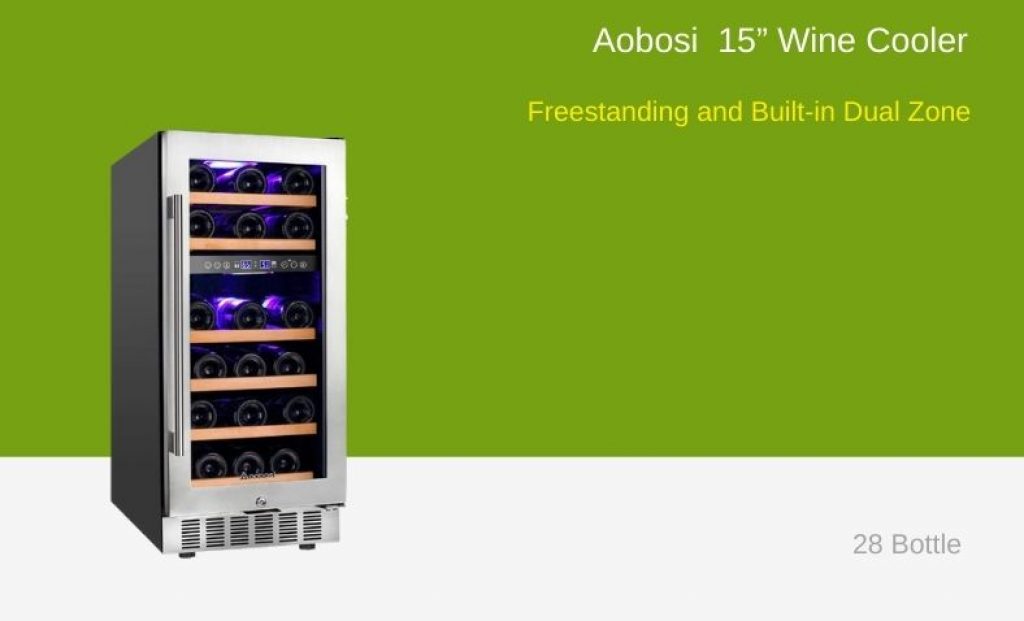 If you're an avid wine collector looking for a  wine cooler to showcase your wine, the Upgraded Aobosi Wine Cooler might be the perfect one for you. This dual zone wine refrigerator holds up to 28 bottles, perfect for those who collect and drink both red and white wine. Sleek design and quiet operation add to its appeal as does its ability to be used as either a freestanding or built in wine fridge.  
The unique design of the ventilation system allows this wine cabinet/cooler to be built-in under the counter. Alternatively, the well-finished sides and top means this wine fridge can also be used as a freestanding unit.
Unique Features
It can accommodate 28 standard-size wine bottles (larger capacity also available from the same manufacturer)

Can easily accommodate champagne bottles

Maintains consistent temperature for red, as well as white wines

Beech wood shelves

Stainless steel handle and door frame

Safety lock

Blue Interior Light
Functional Features
This wine cooler comes with dual cooling zones which make it perfect to store red, as well as white wines. You can store sparkling and sweet wines as it comes with a wider temperature range between 41 and 68 degrees Fahrenheit. The temperature of Upper Zone is 5-12℃(41-54℉), while the temperature of Lower Zone:12-20℃(54-68℉).
You can set the temperature independently by touching the control panel. The upper zone is good for semi-sweet wine, sparkling/Champagne, dry wine, semi-dry white wine, while the lower one is perfect for storing sweet wine, semi-dry red wine, brandy, dry red wine – very versatile! Your wine is perfectly chilled at optimal temperatures for pure enjoyment, which is every wine lover's dream!
The wine cooler uses a high quality refrigerator compressor system to keep the wines cool. This means ideal temperature is reached quickly and maintained well however it does generate a little noise (still pretty quiet though) and also eats more energy.
The best part about this wine cooler is its capacity. You can store 28 wine bottles in this wine cooler. This cooler has ample of space even for the taller bottles. The beech wood shelves slide smoothly in and out making it easy to place the wine bottles.
Aesthetic Features
With a stainless steel frame and double tempered glass door, this built-in or freestanding wine cooler looks classy and fashionable, making it the perfect addition to any home.
The smooth sliding beech wood shelves are nice looking as well as functional and they really do glide in and out very easily. They are strong enough to hold your bottles without scratches and are individually removable to create space for larger bottles.
The blue LED lights are stunning, giving you a great opportunity to showcase your wine collection, but can also be switched off if required.
The screen lock is an innovative design – it can protect the already set program from being disrupted in case you accidentally touch the panel when taking out a bottle, which is a nice additional feature.
So Which Is The Best Wine Cooler To Buy?
All the wine coolers that we have mentioned here are the best buy wine coolers but if we have to select one, it would definitely be Schmecke 33 Bottle Dual Zone Red & White Wine Cooler/Chiller. With it's large capacity and medium range price point, this wine cooler is undoubtedly the best wine refrigerator for 2022. However, if you are looking for a more budget-friendly option the Magic Chef 14.2″ 12-Bottle Wine Cooler is a great little unit. Likewise, if the budget is not an issue and you would like a cooler with chic appearance and features to die for, the Aobosi 15" Wine Cooler is an excellent pick – it all depends on your needs.
What is the proper temperature for a wine cooler?
The first thing that you must understand is that the cooling and serving temperatures vary from wine to wine. The ideal temperature range to store white wines is between 49-55°F (9-12℃) and for red wine is between 62-68°F (16-20℃).
For a single zone wine cooler, you can store both red, as well as white wine at the happy compromise of 55°F (12℃).
How do wine coolers work?
Wine coolers work by maintaining proper temperature and humidity. They lower the temperature and establish the humidity level that suits the wines. They also minimize the light exposure that helps in maintaining the stability of wine.
What is the best wine cooler for kitchen?
Magic Chef 14.2″ is the best wine cooler for kitchen as it is smaller in size and can easily fit even in compact kitchens.
What is the best wine cooler for home?
Schmecke 33 Bottle Dual Zone Red & White Wine Cooler/Chiller is the best wine cooler for home.