We've all got a friend who really likes their wine. Maybe they are a true wine connoisseur with an extensive wine collection and knowledge about every type of wine and what to pair it with. Or maybe they just really like having a glass of Chardonnay with the girls every so often. Whichever type of wine lover you have on your hands, you will often be faced with the dilemma of what to buy them for Christmas, birthdays, anniversaries, etc. An obvious option would be to buy them a bottle or two of wine. The perfect solution is if you know what they like to drink or have an inkling of a wine they should try. But, if you're looking for something different to give them this year, or maybe something to go alongside a well-chosen bottle of wine, we have the ultimate list of wine gift ideas here for you to peruse.
Top Gifts For Wine Lovers
Wine Coolers
First and foremost, have they got a wine cooler? As Serve My Drink is all about the best wine coolers around, we've got some pretty great suggestions for wine coolers of different price points and uses. As far as cool gifts for wine lovers go – you can't go past a wine cooler! Check out our list of the
best wine coolers
.
Wine Buckets
Another cool gift for the wine drinker in your life, a wine bucket would make a practical gift, especially for a wine enthusiast who likes to entertain. You can check out our suggestions for the
best wine buckets here
.
Wine Cooler Bag
If your wine-loving friend loves to enjoy wine at picnics or on the go, a good quality wine cooler bag would make an ideal gift for them. You can get wine cooler bags as backpacks or totes and they can usually carry between 2 and 4 bottles. Here's our list of great
wine cooler bags
to consider.
Wine Cooler Handbag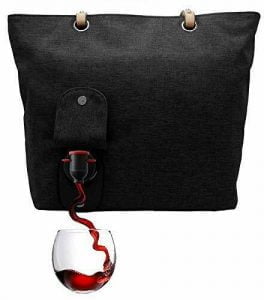 Imagine being able to dispense a glass of wine straight from your handbag! A wine cooler handbag or purse would make such a fun gift for the woman in your life who always likes to have wine handy. This
wine purse
by PortoVino comes in a range of colors to suit every outfit and style.
Wine Rack
If your wine-loving friend already has a wine cooler but might also like a wine rack to store a few bottles of red, there are some good economical options around.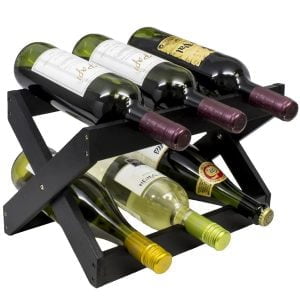 This
wine rack
by Sorbus is small, neat and compact with excellent reviews – so many people love this wine rack it's gotta be good!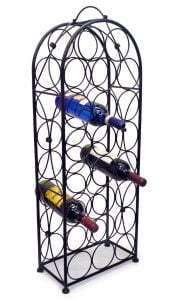 If you think they'll need space for a few more bottles, this one, also by
Sorbus
, holds 23 bottles and requires no assembly – always a big plus!
Wine Phone Case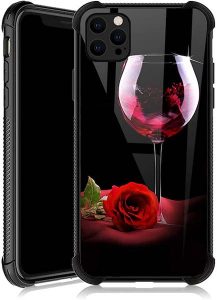 Looking for a novelty gift for your wine lover? For something a little more fun and out there, how about a phone case that leaves no doubt that your friend loves wine? This one by
Zhegailian
is pretty neat!
If by chance your friend loves glitter as well as wine, then this one by
3D
is hard to beat! A wine phone case would make a great stocking stuffer or Secret Santa gift if you're looking for a Christmas present for your wine-loving friend.
Wine Tshirts
For the true wine lover, nothing beats showing the whole world how much you love wine by wearing it brazenly on your t-shirt! If your wine-loving friend is the sort who truly wants the world to know just how much he/she appreciates wine, then a wine t-shirt is sure to be a hit! There are so many great wine t-shirts to choose from, but here are a few of our favorites: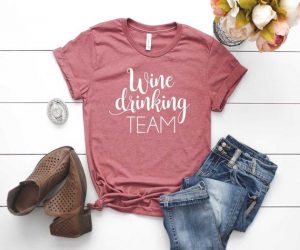 You get the gist – if there's a funny slogan about wine, you can find it on a T-shirt!
Wine Jewelry
For a more intimate gift, jewelry is always a great option. It doesn't have to be gaudy and over the top. This sweet little wine necklace by
Pauro
is sure to please and you can get it in rose gold, silver or gold so there's one to suit everybody.
Or, you could jazz it up a little and add a bit of sparkle with this white gold plated zircon water glass wine drop pendant by
Tanyoyo
.
If you've got a friend who always likes to carry their wine or liquor with them they're likely to be pretty happy to receive this
flask disguised as a bangle
! It even comes with a little funnel to make it easy to fill! Or there's this cute
charm bracelet
that declares "Wine is my happy place", which would surely make any wine lover happy.
And, to complete the jewelry set, how about a pair of
wine glass earrings
? So, whether it's for a birthday, Christmas or just because, hopefully, we've got your creative juices flowing and you've come up with an inspired gift idea for your wine-loving friend – don't forget to add a bottle of wine! Want more gift ideas?
goodgiftsguide.com
has plenty of gift ideas for everyone.