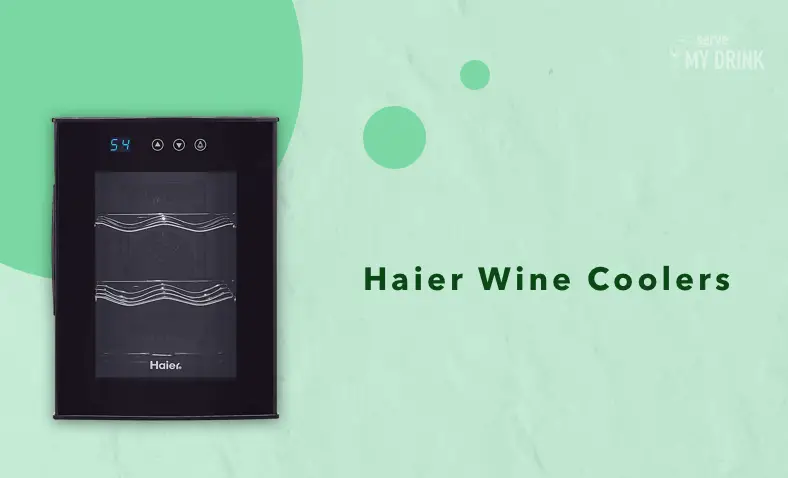 (This article contains affiliate links to Amazon)
Wine coolers are trending big time. However, while searching for top-rated wine coolers, there are several factors that need to be kept in mind. The wine cooler you choose should meet all your necessary requirement such as sufficient storage, easy installation, compelling features and next level cooling. Thus, whether you are searching for a wine cooler which is good looking in terms of appearance or the one which speaks in terms of its performance, Haier always serves as a right pick for you. Haier wine coolers have taken the market by surprise and are trending big time.
Below listed are the two best-selling Haier wine coolers manufactured by leading brand:
Haier 6-Bottle Wine Cellar with Electronic Controls:
Model
HVTEC06ABS
Weight
17.6 pounds
Capacity
6 standard bottles
Dimensions
20.3 x 14.1 x 9.9 inches
Color
Black
Check price
This wine cooler is the perfect choice for all the beginners. The Haier 6-Bottle Wine Cellar is one elegantly designed wine cooler which comes with a number of impressive features to look for. There is a good-looking blue LCD display along with an adjustable thermostat which aims to keep your wine bottles at the perfectly chilled temperature. The unit also comes with a lockable feature, allowing your wines to be safe. The curved glass door of this unit displays all your wines very beautifully.
Unique features:
Ideal for countertop use.
Adjustable digital thermostat control with blue LED display 46-66f
Soft interior light
Pros:
The compact size of this wine coolers makes it easy to fit into any space without creating a lot of hassle.
The cooler makes the use of thermoelectric cooling system which makes sure not to create any kind of unwanted noise.
The temperature setting option in the cooler is very constant and rests in between 45 and 55F.
Cons:
The temperature range of this cooler is little restricted.
The capacity is too compact and hence it cannot store a great number of bottles.
This wine cooler makes the best choice for all the beginners in each sense of its phrase. It is better suited to chill the white and sparkling wines. The efficiency of this wine cooler makes it quite a desirable model among all the wine lovers who are looking for a small unit.
Haier HVCE15BBH Built-in or freestanding 26-Bottle wine cellar:
Model
HVCE15BBH
Weight
110 pounds
Capacity
26 standard bottles
Dimensions
36 x 26.2 x 17 inches
Color
Black
Check price
The 26-bottle Wine Cellar by Haier serves as an ideal replacement to fill all the space which has been left by a trash compactor. This versatile wine cooler is efficient both in terms of its overall appearance as well as performance. The stainless steel body along with black cabinet door adds an extra touch of elegance into its appearance. This wine cooler is structured for both built-in as well as free-standing usage. You can easily make way for the adjustable temperature settings to cool your wines.
Unique features:
Auto doorstop function
Used as Built-in or Free-standing
Pros:
The shelves can be pulled out fully for a convenient cleaning purpose.
The model comes with a temperature alarm and hence warns you if the temperature reaches above 60 degrees.
The model can fit into any space, thanks to the reversible door.
Cons:
You cannot turn off the internal lights.
This unit is undoubtedly too loud.
This wine cooler by Haier serves as the perfect option for all the wine lovers who look forward to storing a large quantity of bottles for chilling. This cooler works decently in order to maintain the lowest setting of around 43 degrees. The classy appearance of this wine cooler is something which makes it very desirable.