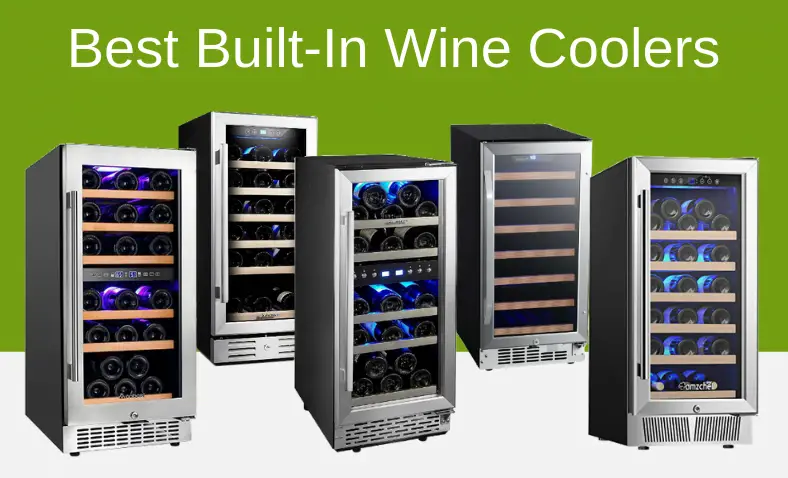 We are an Amazon Affiliate
Our site is supported by you, our readers! This page contains affiliate links, which means we may earn a small commission if you click through and make a purchase - you will not pay any extra. More details
here
.
If you begin to look for the best wine coolers online, you will find a plethora of options and types of wine coolers to pick from. Built-in wine coolers seamlessly fit into your kitchen cabinets and do not take a lot of additional space which makes them a wine cooler of choice for compact homeowners.
If you're planning a renovation or kitchen make-over, you may want to consider incorporating a built-in wine cooler into your design. We're sure you'll get lots of use and enjoyment from it and it will add resale value to your house.  Also, they look quite chic and classy. As already mentioned, if you're in the market for a built-in wine cooler you will be spoiled for choice as there are many options to choose from.
Here we have outlined some of the factors you may want to consider and features to look out for when choosing a built-in wine cooler.
Pros and Cons of Built-in Wine Coolers
With so many to choose from it can be easy to get confused and overwhelmed when shopping for your best option – you want to make sure you make the right decision! Here, we've broken it down into a simple list of the pros and cons of buying a built-in wine cooler. Work your way through the list and figure out if this is the right style of wine cooler for you.
Best built-in wine coolers in 2021
There are many advantages to buying a built-in wine cooler. They really feel as though they belong, not just an extra appliance that gets shifted around, and can make your kitchen cabinets look really sleek and stylish. They do require a little extra planning in terms of dimensions, cabinetry and installation, but they certainly highlight your wine collection well and may even add to the value of your property!
So, if you've made up your mind to buy a built-in wine cooler, let's explore some of the best options for you. Here are some built-in wine coolers that are a combination of perfect design and exemplary features. You can get a brief overview from the table below or click through to read more detailed reviews. Take a look:
| | | | | | | |
| --- | --- | --- | --- | --- | --- | --- |
| | | | | | | |
| | | | | | | |
| Phiestina 15″ Wine Cooler | | | | | | |
| | | | | | | |
| | | | | | | |
| Antarctic Star 15″ Wine Cooler | | | | | | |
Our favorite from among the list of best built-in wine coolers is the Aobosi 15" Wine Cooler. This wine cooler also featured in our "best wine cooler" list and can be used as either a freestanding or built in unit.  The dual zoned temperatures give an overall temperature range from 41-68° F (5-20℃) meaning you can keep both your reds and your whites in their happy zone of temperature.  
Whilst this one topped our list, any others on the list may be more suited to your requirements and all are highly recommended.